With the growth in both the number of remote workers as well as the rapidly increasing amount and severity of cyberattacks on businesses, IT departments are feeling the strain. So, too, has the growth in the number of corporate-liable mobile devices added to IT's headaches and distracted them from their core business functionality.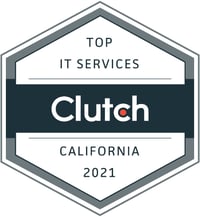 At Wireless Watchdogs, we are committed to helping companies simplify and enhance their IT services by removing from them the burden of managing their mobile devices with customized solutions that turn businesses with mobile device challenges into loyal customers.



That commitment to helping our clients is why we're proud to announce that Clutch,

a client-driven B2B review platform,

has recognized Wireless Watchdogs as one of the top managed IT services companies in California for 2021.

Clutch is hugely respected within the B2B space for connecting small, mid-market, and enterprise businesses with service providers that fit their needs, which it does by providing a venue for potential clients to evaluate technology service and solutions companies based on their quality of work, thought leadership, and client reviews.


We are grateful that our dedication and quality have been recognized by Clutch -- but we're even more grateful that that recognition is based on the reviews provided by our clients. To our clients who took the time to leave a review of Wireless Watchdogs on Clutch, thank you. And to all of our clients, thank you, too -- we do what we do because helping you succeed is the bedrock of everything we do.

Here are a couple of the client reviews on our Clutch profile:

"Working with Wireless Watchdogs has been a breeze and their services are very valuable."

-- Support Supervisor, Milgard Manufacturing

"Their support has been amazing and helped us keep our mobile devices up to date with the most cost-efficient methods."

-- CFO, Lowrie Electric Co, Inc


Visit our Industries page to learn more about what verticals we serve and to download managed mobility case studies, and visit our managed mobility services Resources page for even more information. And of course, don't hesitate to contact us you have any questions -- we look forward to hearing from you.